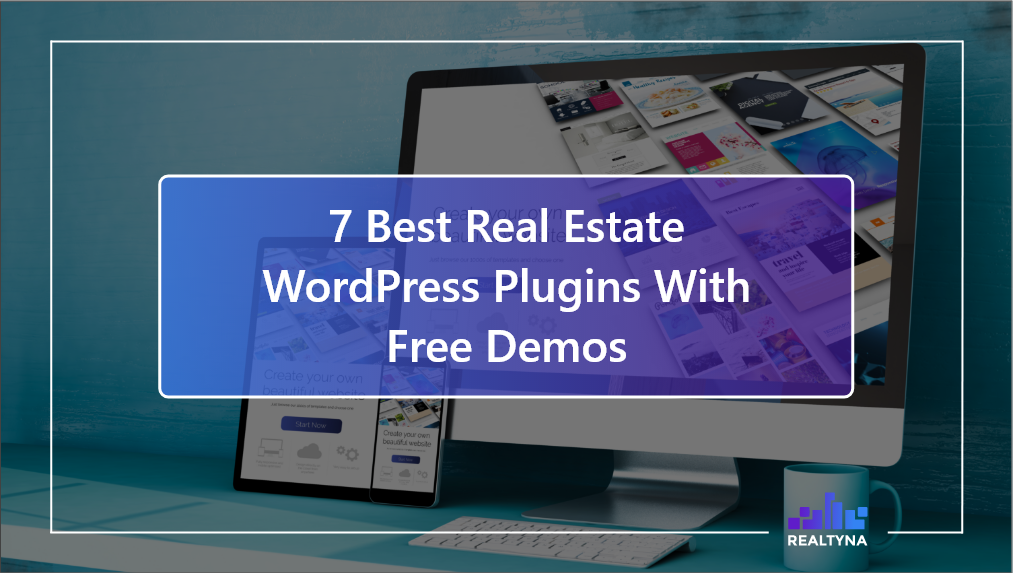 7 Best Real Estate WordPress Plugins With Free Demos
09 Jun 2021

Posted at 11:00h
0 Comments
If you're a Realtor or a developer, you'll want to learn about the most effective ways to design functional real estate WordPress websites that showcase your listings in all their entirety. One of the most dynamic and feature-rich real estate WordPress plugins on the market today is WPL, an easy-to-use plugin that includes all of the necessary functionality for quickly configuring a complex real estate website.
If you're looking for plugins with free demos for your real estate website, look no further. WPL is one of many well-known and widely-used free real estate WordPress plugins that will help you configure a dynamic real estate website in minutes. Choose a perfect product for your needs, and get to digitizing those listings in the list below.
1. WPL and WPL Pro
WPL Real Estate is developed by Realtyna, a software development company specializing in real estate online applications since 2007. The plugin includes the following features:
Users may use a set of criteria to search properties, such as states, counties, and zip codes. The administrator will create a list of available search criteria.

On your listings, fields with no details are automatically hidden.

Google Maps displays the search results.

WPL is compatible with most WordPress themes.

It allows you to add properties using an "Add Listing" tool. If you want to enable it, users and secondary agents may even add listings.

When viewing properties, visitors can choose from two display modes: lists and grids.

WPL offers multiple property types (for rent, for sale, homes, offices, apartments, etc.), and multiple listings and rooms are available to classify the listings and help clients narrow down their preferences.

Listings are automatically shareable via Facebook, Twitter, and email.
Apart from the free WPL Basic version, Realtyna now offers a WPL Pro package at $199, which comes with additional features such as a tailored theme for real estate websites and much more.
2. WPL – Real Estate CRM
WPL-CRM is a WordPress plugin that allows you to manage and maintain your leads in one place. It is a simple yet powerful tool that helps Realtors automate the lead generation process, lead follow-ups, and more. With this plugin, real estate practitioners can easily track leads, manage customer needs and provide excellent suggestions for home buyers.
All real estate professionals can take advantage of the free demo version to learn about WPL – Real Estate CRM or use the pro version for additional features and a professional experience.
3. Realtyna Organic IDX plugin
With Realtyna's Organic IDX integration and real estate solutions, you can manage RETS/IDX/VOW real estate solutions, property listings, and scalable features. It supports all RETS-based MLS providers in North America. The database management framework is completely flexible due to its system design. Thus, you can add/remove/modify fields without custom changing the database. Organic IDX Plugin includes features such as:
customizable search bar

property map

social media share

and much more
4. APS – Advanced Portal Search
One of the most important features of a real estate website is its search features. Reatyna's APS is not only a search portal, but it's a website game changer. The plugin provides its users with the tools necessary to keep their web visitors on site. In addition to the standard features that most real estate websites have, Realtyna's APS has an Ajax-based scanning system, zooming/panning, a drawing circle/polygon to allow site visitors to get accurate searches, and much more. With no coding skills necessary, this software will enable agents to establish their website search portal easily.
5. Market Report Add-on
Creating a marketing strategy can be very challenging, but with Realtyna's Market Report Add-on, you'll learn about the various preferences and trends from your users to maximize your website's lead conversion opportunities. This tool also helps its users identify trends on their IDX websites through internal usage analytics.
6. WordPress Real Estate Themes
WordPress gives users many theme choices for their real estate websites. The themes integrate seamlessly with your IDX feed with drag and drop page builders. They include Elementor, Divi Builder, and WP Bakery, and more.
7. MLS Integration For WPL
MLS Integration is a solution that lets you obtain data from your MLS provider and post it on your website. For home buyers, finding the right property has to be as simple as possible. One of their priorities is browsing for houses all in one spot. Suppose this tool is available on your website, together with your branding and contact details, with high search function usability. In that case, the more likely buyers will find your website and the longer you can keep them on your website with all your MLS listings.
Real estate is a challenging industry to venture into, but it can also be very lucrative. If you're a new agent or a developer looking to expand your portfolio, an elegant and efficient website would help you get a leg up on the market. Real estate practitioners should take full advantage of all tools at their disposal to ensure that their WordPress websites stay elegant and user-friendly.