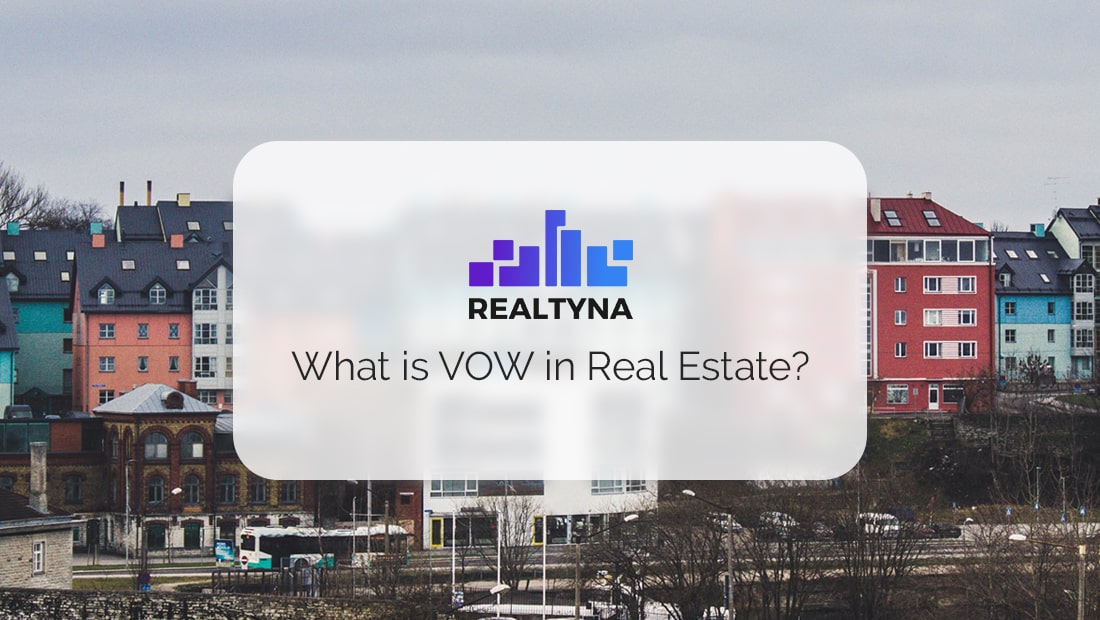 What is VOW in Real Estate?

Posted at 11:34h
7 Comments
VOW or virtual office website is a real estate data product offered by most MLS that provides more sales history and off-market data than IDX. VOW is designed to help agents looking to drop the brick-and-mortar business model and go completely online.
A VOW site operates similarly to many other real estate websites. The main feature is a property display that allows users to search, filter, and save listings. The unique aspect about VOW is that this property display includes off market listings.
Because of the potentially sensitive nature of this off-market data, VOW listings are not open to the general public. Instead it is a common requirement that a client-agent relationship be established before a user gains access to the VOW. This can take the form of forced registration pop-up or a gateway on the VOW site.
While some agents use VOW to move their business completely online, many do not. VOW can help your business get an edge no matter your business model by allowing you to offer listing information that others don't. It also can help you and your clients know your market better by providing the tools you need to identify trends.
What is a VOW Feed?
A VOW feed is a data connection between your website and your MLS that allows you to import and display VOW data. A VOW feed typically includes off-market listings and is designed to allow agents to provide more comprehensive market information online.
More and more homebuyers are looking for stats and figures when looking for homes. They want to understand the overall market climate as well as the particulars of home values in their future community. A VOW feed allows agents to provide more of this information and capture more leads. The forced registration requirement also can help agents be sure of the leads they are getting.
VOW feeds are available from your MLS, but many real estate technology companies now offer them too.
LUKE'S TIP

What is included in a VOW feed?
VOW feeds vary by MLS but they can include sold listings that go back five years or more, expired listings, a sales history for each property, original list price, price changes, days on market, and more.
You should call your MLS to find out the specific details of your feed. Many feeds also permit comingling with non-VOW data. If you have your own database of specialty listings, you could combine them with your VOW feed for a single property search portal.
How Does a VOW Feed Work?
A VOW feed works by providing more data to agents and brokers but requiring that they follow more compliance regulations. Under VOW, real estate professionals must have an established a client-agent relationship with anyone granted access to VOW listings.
From a technical perspective, VOW feeds work a lot like RETS. They provide the flexibility to focus your business on a certain area or property type, and they offer strong data control.
How to get a VOW Feed?
The process to get a VOW feed is like the process to get any other IDX. You should speak with your MLS about fees and licensing and a web developer about the technical aspects of establishing the data connection.
We have more on this below.
Step 1: Contact Your MLS
The contents of a VOW feed vary by MLS. So you should contact your MLS to find out what is included in your feed. Your MLS also can tell you the licensing fees, explain the compliance rules, and issue any necessary paperwork.
Step 2: Contact A Web Developer
A web developer can help you set up a VOW feed and advise you on how to build the website features necessary to meet the VOW compliance rules. Unless you are highly experienced, it's better to hire someone to take care of these technical details.
Step 3: Establish Data Connection
With the fees and paperwork in place, your web developer can now begin establishing your VOW feed. This will require accessing the VOW database, mapping properties and importing them to your site.
Step 4: Configure Feed
Many agents don't need all of the information included in a VOW feed, or maybe they focus their marketing to specific area. Your web developer should configure your VOW feed as necessary.
Step 5: Install Compliance Measures
With the feed in place, it's necessary to install compliance measures before going live.
What is the difference between IDX and VOW?
The difference between IDX and VOW lies primarily in the listings. IDX includes all active listings, such as for rent and for sale. VOW includes these active listings plus off-market listings and sales history data.
There are also differences in the way they are used. IDX is generally thought of being an advertising website. The goal of many portal sites is to attract as many visitors as possible and to sell ads and services.
VOW is considered more of a business site. The idea is to provide a more custom, comprehensive home search that better replicates one-on-one office interactions online.
Is Zillow a VOW?
Though Zillow includes a wealth of data, including some pending listings that are not yet on the market, it is not a VOW in the traditional sense because no client-agent relationship is required before accessing the listings. They are free and open to the public.
Did we forget something about VOW? Leave it in the comments. Or for more, check out RETS Definition: The Real Estate Transaction Standard Made Simple and What is DDF and RETS.