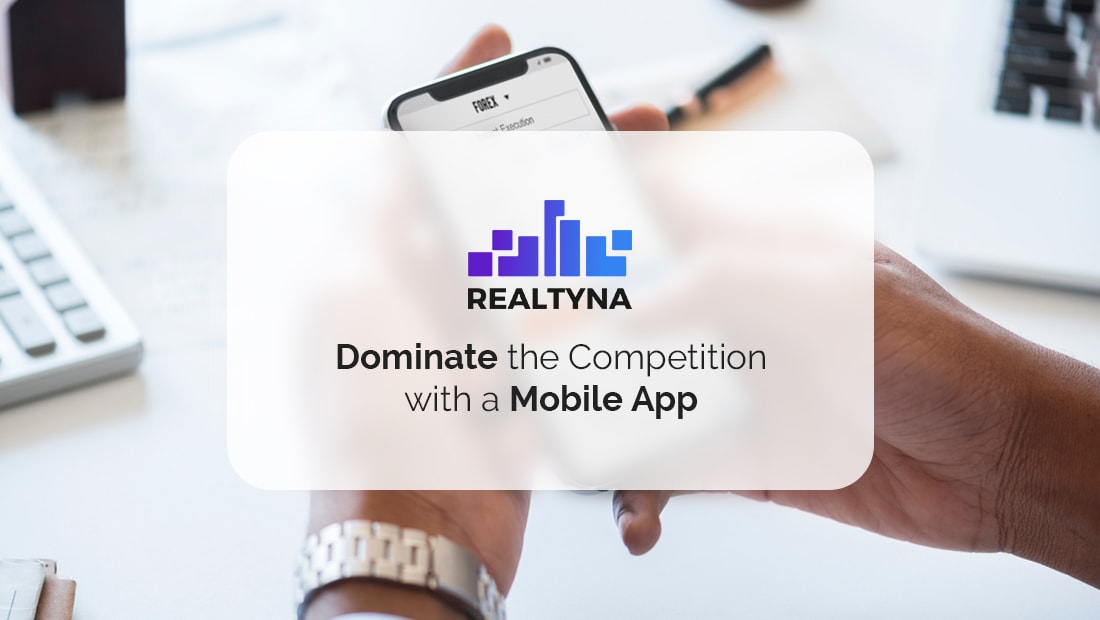 Dominate The Competition With A Mobile Application
22 Jun 2018

Posted at 12:12h
0 Comments
Saying that getting ahead in the real estate market takes a lot of time and work is a colossal understatement. If it were easy, there would not be thousands of advice blogs on the internet about it. The golden question is: How can I prevail against my competitors? The answer is simple.
Your first step is to make a website.

Your second step to be on par with the competition is to adopt Organic MLS Integration for your listings on your site.

The third step is to get an app.

Mobile applications are a huge investment of time and money, but if properly used, could yield incredible success. I understand that the idea of creating a mobile app might be exceptionally overwhelming. To make your life easier, I have made a "How to" guide to help answer your basic questions about a real estate mobile application.

WHAT ARE MY APPLICATION OPTIONS?
There are a handful of application platforms out there, but the major ones are Android and iOS. When entering the app market, it is recommended to choose one platform, perfect it, then enter the next one. Choosing between the two, or both, is a bit strategic. To help you, I will briefly detail the differences between the two.
iOS: iOS is the platform that Apple uses. Many famous apps, such as Instagram, started on the Apple platform before moving to others. There are significantly less iOS users worldwide, however, the return on investment (ROI) typically tends to be higher, especially in America because people who use Apple products are more loyal to paying for apps. If you choose to have a paid or semi-paid application, this is something to think about. Apple is very strict when it comes to their apps, so be sure to consider this when looking for developers.
Android: Most other mobile devices are compatible with Android system (aside from Windows phones and a few others). If your market is outside of the United States, or you have no desire to create a paid application (which can still succeed on the Play Store), consider Android. Because of the many various screen types and sizes, developing an application for Android could take more time and have potential to cost you more. Android is a lot more flexible in the developing process, which could allow you and your developer more freedom for creativity.
WHAT ARE THE BENEFITS OF HAVING AN APP?
Unique: To put it in a cliche way: What do you have that they don't? AN APP! Real estate giants like Trulia and Zillow have apps, but what about the little guys? A huge way to set yourself apart from the competitors is to embrace a market that is barely touched by anyone else.
Local exposure: As previously mentioned, niche market apps are scarce. The local/neighborhood exposure is a huge benefit to your growing business. Just how people gravitate towards "neighborhood experts," for real estate agents, they will also do the same when searching for an app in their local market.
More accessible: It cannot be argued that we live in a digital world. I will make a bold statement and say that everyone agrees with this. What is changing, is that we are living in an ever increasing mobile world. What used to be only capable on our computers is being replaced by our phones. Searching for real estate is no different. Having a well functioning app in the hands of a consumer is huge! Now they can search for a home on the bus, walking to work, or waiting for a table at a restaurant.
Branding: Your branding will be out there for the world to see. When your application is downloaded on someones phone and they see your logo every day, they will not waste any time connecting to other browsers or searching the web. They will simply use your app and all the services they can easily find within it. They will subconsciously refer to your logo when it is time for them to need an agent.
Lead capturing*: Just like having a website, an app can provide you with many lead capturing tools. From saved searches to basic analytics/CRM features, this will help you convert your leads. This benefit will depend on the developer you choose to work with, but is not something to miss out on. You can expect it from your favorite real estate software developer, Realtyna, soon*.
LUKE'S TIP:

HOW WILL IT LOOK?
Just like websites, apps can be completely customizable. Possibilities are endless! You will want your app to be simple and user friendly, while also professional and content-rich. You will also want your app to be useful for the consumer. Do not waste their time. With this in mind, think about the layout and features you would like to see. For ideas, check out successful apps like Zillow or Trulia or you can visit Realtyna for a demo of an exceptional real estate app.
HOW MUCH WILL IT COST?
The fact is, apps are expensive. Consider making an application an investment, just as your website was! Depending on your vision for your app, the developer you have hired, and which platform you decide to publish to, you are looking at a cost from $1,300-$10K+. To help guide your budget, I will provide a few tips.
Independent contractors from websites such as Upwork usually charge per hour. For a functional, mediocre, application, it is expected to take minimum of 400 hours if they have to build everything from scratch. Even with the cheapest, least professional independent contractors, you are looking at no less than $2K.

Development companies may charge like they do for websites with an installation fee plus monthly licensing fees. Remember in this case, you will never own all of the data and could end up costing you more in the long run. Over the course of your 1st year expect to pay no less than $1K.

Realtyna offers quality applications for current clients based off their own WPL websites. You will own the app for life and take advantages of all the mentioned benefits plus some! To create an app with Realtyna will cost you between $1,299-$1,499. (If you are not a client of Realtyna but want to find out more information about our services, check out our

website

! You could create a professional, polished website AND app for less than the cost of 1 app from a novice independent contractor!)
HOW CAN I GET AN APP? HOW TO GUIDE:
Choose between iOS, Android or both. As detailed before, this weighs heavily on your target market, budget and wishes for ROI (return on investment).

You will need to map out the vision you have for your app. Think about the features you would like it to include. For some ideas, check out your own website and determine which of these features you would want transferred. You can also check out popular apps like Zillow and Trulia for inspiration.

Search for developers or software development companies and get quotes to compare. When searching for a good app developer, if it very important to ask for their portfolio or demos. A good rule of thumb for developers is to expect their application look only as good as their website does. You will be investing a lot of time and money making an app, Make sure it is with someone reputable and nice to work with. You can easily search for independent contractors on sites such as Upwork, search specifically for real estate app developers or get trusted, quality service with

Realtyna

.

Clearly express your vision as well as be open to developers ideas. Although not required, it is recommended to work with a developer that specializes or is familiar in real estate applications. They may have good ideas and tips.

Pay and roll out your app! Please know that this might be a long process with many emails and phone calls. Be ready to communicate and learn some technical jargon. It will be worth it.