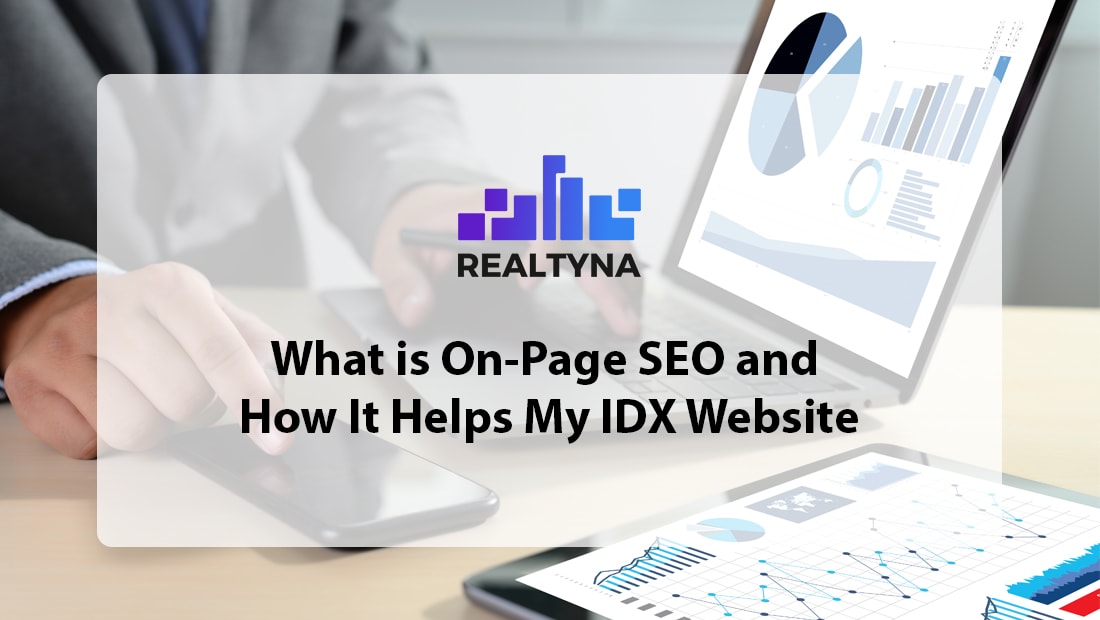 What is On-Page SEO and How It Helps My IDX Website
09 Nov 2019

Posted at 10:00h
0 Comments
In order for your website to rank well in the search engine systems, you must provide it with signals that the page is better than the other ones. Today SEO plays one of the most important roles in lead generation. The higher your website SEO, the better it is for your business.
In the article we will discuss what is "on-page SEO" and how to make it work for your IDX website.
What is On-Page SEO?
If you search on-page SEO in Google, Moz will tell you that: "On-page SEO is the practice of optimizing individual web pages in order to rank higher and earn more relevant traffic in search engines." It's the thing that you can control and analyze on your website. In our blog we will talk about several and the most important factors for your perfect on-page SEO.
Web Page URL
The URL is the most important part of on-page SEO. It's one way among several how Google recognizes what is on your web page. Make your website URL friendly. Use keywords at the beginning of the URL and try not to make it too long.
Content
Content of a website is one more essential element to your websites success. So the question is what is good content like and what to consider while making it? The point is, Google prefers unique and useful content. Which means, you should pay close attention to readability as we all more technical SEO strategies. While writing content, one should always take into consideration the following steps:
All content must be clearly and simply written. The length of sentence shouldn't be too long or complicated. No one loves reading a sentence that lasts forever. Good SEO doesn't like passive voice sentences, so try not to use passive voice while writing content for your real estate website.

While writing content, think of using keywords actively and naturally.

Divide your text into several blocks, use H2 subheadings for your lower level headings. Google will love it, as it will be good for readers too.

Include links to your other content. If it's not interlinked, the search engines won't rank it as high. Try to think making your content clickable in order to drive more traffic to other pages on your website.

Long content is good for SEO. If your content is long, well-organized with subheadings and is divided into different sections, it gets your website rank higher on Google. Anything over 300 words is considered good, but the best ranked pages are often over 2,000.

Use videos on your website.

Social media posts with video have 48% more views

Record videos about listings, display neighborhoods in videos, interview experienced buyers and make your content more intriguing and useful.
Title Tag
The Title tag is another one of the most important on-page factors for SEO. It's important for user experience too. A good title may be a crucial factor if someone may or may not click on your page. There are several factors you must know in order to make your title tag look good:
Keep your titles under 60 characters long but also not too short.

Put your keywords in the title and try to organize it at the beginning, yet also keep it interesting.
Using Internal Links
Using internal links is a well established practice. You can use 3 or 4 links on a page. You can link to old posts on your website. It will increase the time users spend on your site as they will be more and more engaged and give the Google crawlers a chance to move to new pages.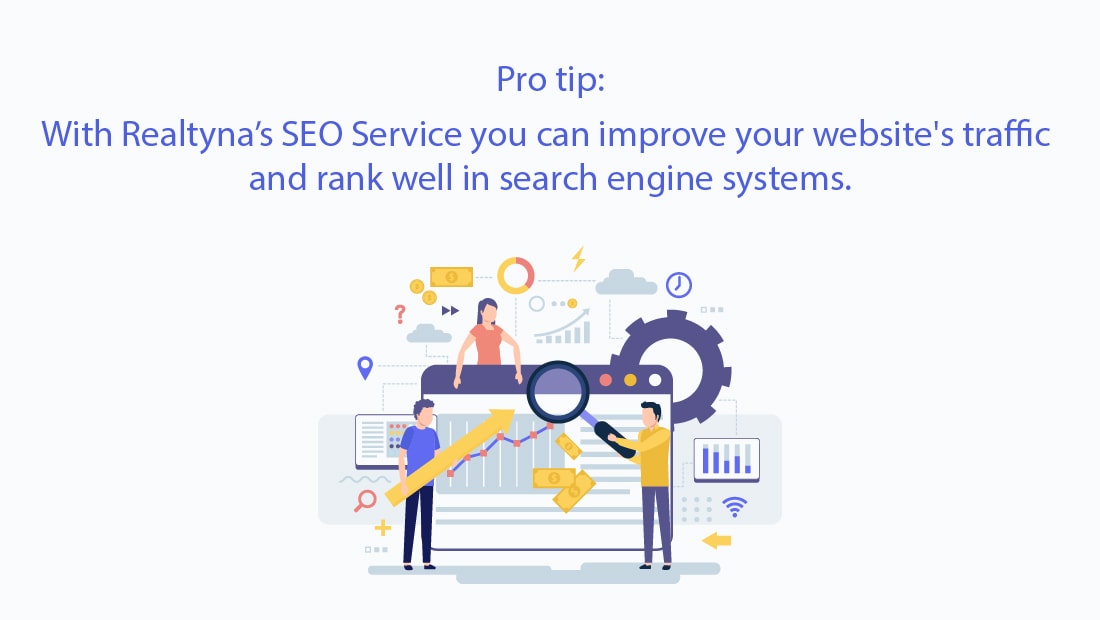 Page Speed
Why is page speed important? Well, as Google Research shows, 33% of smartphone users in each market have a negative view of a brand if mobile experience is slow. Moreover, leads leave the page if it takes more than 2 seconds to load.
If you are a real estate agent or a broker, you already know how important it is too decrease bounce rate on your website and how it helps your real estate business. In order to have good UX you must take care of your websites' speed.
One way to do it is With Realtyna's CDN (Content Delivery Network). CDN is a geographically distributed group of servers that provide faster delivery of real estate content for Realtyna's system. You can be sure that by CDN a big amount of data will load fast and the speed of your website will increase.
Also Realtyna's server optimization service helps you to create a fast property portal, improve load time and generate more leads.
Although page speed is not the biggest or easiest factor for on-page SEO, it does make a difference.
Responsive Website
Google prefers responsive design. In 2015, Google announced that a responsive website is a priority for them. This means that whether the website is mobile/device responsive or not may be a ranking factor for Google.
Homebuyers are often using mobiles while home searching. That gives a signal to real estate agents why their website must be responsive. If the website won't fit every device and won't be practical, there is a chance that it can become a cause for losing leads and devaluing SEO.
On-Page SEO for IDX Website
The Real estate market is becoming more and more competitive every year. In this big market, you as an agent are trying to stay noteable. You are trying to run a flawless marketing campaign, are finding out new trends, and organizing your website with different and important tools.
While organizing your website you involve different steps in it and if you haven't thought about On-page SEO, consider that it's the new marketing strategy for your real estate business. If you are using off page and on page strategies together, you have a chance to be a major player in the market.
As a real estate agent, focusing on on-page SEO helps you to control different elements, make your website faster, more flexible and desirable for buyers.
For more information about website SEO see the following articles: How SEO Can Help You Generate Long-Term Real Estate Leads and Achieve High ROI and How Important Is SEO For Real Estate Websites?
Questions or feedback? Leave us a comment.