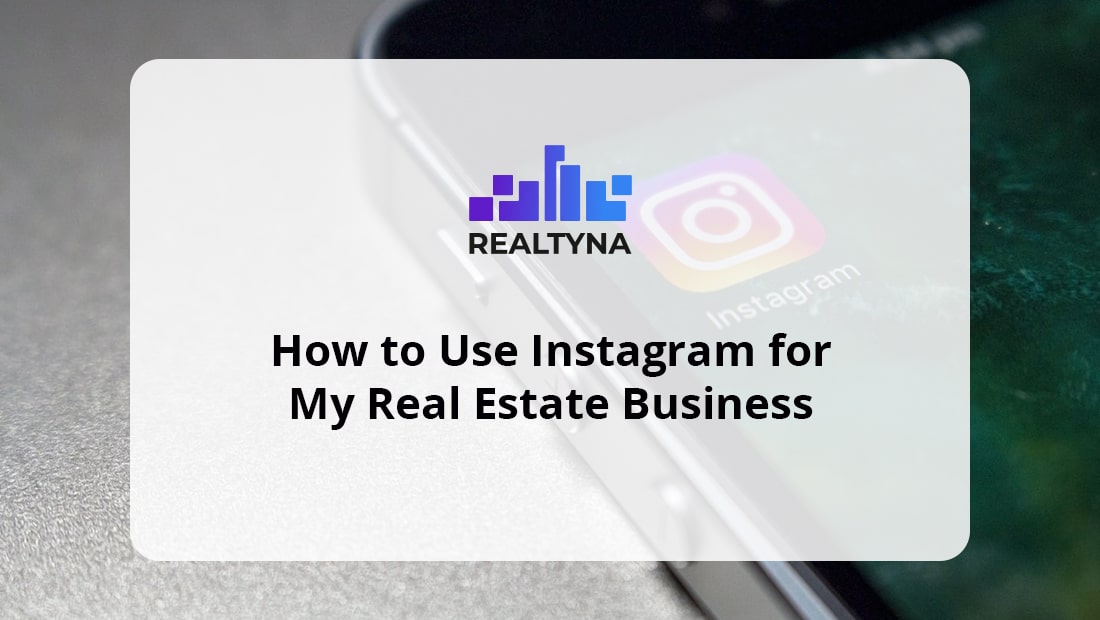 How to Use Instagram for My Real Estate Business
11 Dec 2019

Posted at 10:00h
2 Comments
Instagram is something to talk about when discussing social media marketing. Today, it's one of the most powerful platforms in the world. According to the information of Instagram Business more than 1 billion Instagram accounts worldwide are active every month. But more noteworthy, is the number of business followers there. Roughly 80% of accounts follow businesses on Instagram.
So it's a valuable source to market your real estate business, right? In the article we will discuss the best ways to use Instagram for real estate businesses.
Instagram for Real Estate
Are you a real estate agent or a broker and trying to attract more leads with the help of Instagram? The first thing that I'm going to tell you is that you are on the right track. Instagram is an amazing social media platform which increases your visibility and can help you in your lead generation process. In order to use Instagram correctly, there are several things you can take into consideration.
First of all, you must research instagram statistics in order to have an idea who your audience is. Did you know that in july 2019, 34 percent of global instagram users were aged between 25-34? This means that almost two thirds of total Instagram audience were aged 34 years and younger. Moreover, 31% of the users were aged between 18-24.
Maybe now you think that the young generation is not the right target audience for you and orienting on millennial buyers is not the correct decision as most of them tend to live with their parents or rent, but it's not so. More and more millenials want to own a home, but it depends on the style and size of the properties they are willing to have. Moreover, don't forget about other statistics, Instagram has users with more than the average age and usually these users are the ones who are able to buy properties and in many cases, these are luxury homes. According to the research of Statista, Instagram users earn higher salary, than Facebook and Twitter users.
Now as you have registered your Instagram business profile and have chosen the best name for your Instagram, you can start marketing your real estate business and follow several steps:
Organize Your Bio
This part is very important. Let your audience know who you are and what you are doing. This helps you to catch a potential buyer's attention and then later, trust. Instagram doesn't have to be the most professional platform, so go ahead and try your hand at being creative. Describe who you are, what you do, where your service market is, and a few fun facts. Some might say emojis are also appropriate for this platform, but that is ultimately up to you.
Make Powerful Real Estate Content
Post valuable content. Instagram is all about the visuals. Use high quality photos and videos which will be pleasant to see.
Also, the context is very important. People love interesting stories, so tell them. Tell people about your listings, its neighborhoods, and unique places. Show the working process, the pleasant moments while buying/selling homes. Ask your buyers to record videos about their experience and send to you to post.
Use Instagram stories. More than 500 million users use Instagram stories every day. In stories, you can show the things which happen behind the scenes, more casual things which you don't post on your feed, as stories disappear after 24 hours.
Use Real Estate Hashtags
People search you with hashtags. It helps you to be discovered. In other words, hashtags are SEO. Use as many hashtags as you can. The best amount of hashtags is approximately 20-25 for one post. Also, don't forget to tag people or locations. But remember to use relevant tags, so the right audience finds you. General real estate hashtags are good, but mix in some local hashtags and hashtags close to your niche.
Be Social on Instagram
It is important to engage on Instagram! Not only to try to generate some leads, but also for the sake of the Instagram algorithm. You can follow back your followers, comment on their posts and make close relationship ties with clients. Spend some time on the platform interacting with other users.
The Bottom Line
Instagram is arguably more popular today than Facebook and Twitter. It can be the best way to increase your followers, because of its user-friendliness. The more you post on Instagram, the more leads you may get, but try to make at least 2 posts a day, also be active on your target audience's Instagram pages. Instagram gives agents a chance to market their properties in a significant way.
If you want to know more about the use of Instagram for your real estate business, follow the blog: How to Improve Your Instagram Experience and Generate More Leads?
Questions or feedback? Drop us a comment.