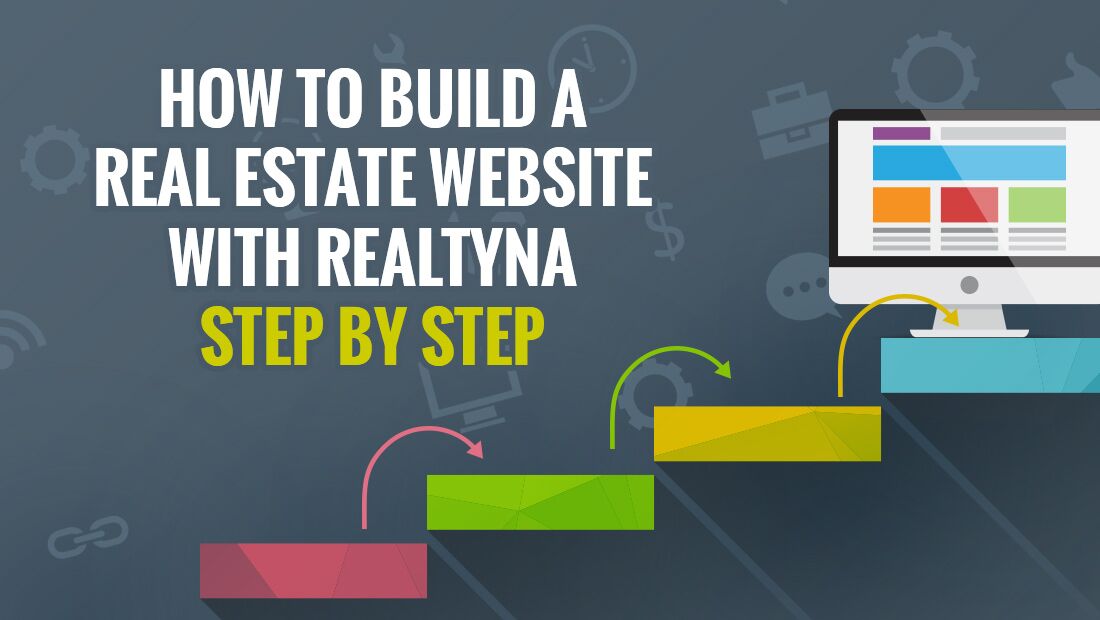 How to Build a Real Estate Website with Realtyna Step by Step

Posted at 13:06h
0 Comments
So you are interested in building a real estate website with Realtyna. Fantastic!
This article will serve as a guide during the process. It will provide detailed instructions on how to build a real estate website with Realtyna step by step.
Step 1 – Choose a Domain
When choosing a domain name you should think about your business model and the types of properties you plan to display on your site. Include keywords about your business in your domain name and your website will be easier to find in relevant web searches. This will boost your site's SEO and help you attract more visitors: Best WordPress IDX for SEO
Once you have a domain name you would like, check it's availability at a domain registrar like GoDaddy and register it. If you have any questions about this process you can call us at: (302) 525-8222.
Step 2 – WordPress Account
Realtyna's Organic MLS Integration is a software suite for WordPress, so to run it you will need a WordPress account. This is free to set up. Navigate to WordPress.com, click "Get Started" and follow the prompts. Or let us know the email address you would like to use, and we'll set up your WordPress account for you.
Step 3 – Choose Theme
Organic MLS Integration is compatible with most WordPress themes. But we've also developed compatible views to align styles with some of the most powerful WordPress themes available. You can see those here: https://wpl28.realtyna.com/
Any theme on this page is plug-'n-play ready with Realtyna products.
Step 4 – Choose Add-ons
Out of the box, Organic MLS Integration provides tools for you to define new fields, edit the search bar, re-orient the listing details page, and more. But we also offer a suite of optional add-ons that expand the functionality of our platform: https://realtyna.com/shop
A powerful bundle contains:
•Advanced Portal Search to allow for saved searches
https://realtyna.com/advanced-portal-search-aps/
•Membership, which includes forced registration
https://realtyna.com/membership-for-wpl/
•CRM to allow you to see what searches users are saving and what properties they are viewing
https://realtyna.com/crm/
Step 5 – Install Products
Once you complete your purchase your products will be released in your billing area. You should download each product (it will be in the form of a zip file) and save it to your computer. Then log into your WordPress admin, hover over plugins, and select "Add New". Click "Upload Plugin" and find the saved file on your computer to add it to your WordPress. You will receive the message "Plugin Installed Successfully" when the upload is complete. Click "Activate Plugin" and you may begin using it: https://realtyna.com/video/wpl-installation/
Installation is complimentary with any purchase, so if you'd like our support staff to take care of this step for you, just let us know.
Step 6 – Integrate MLS Listings
To integrate MLS listings into your site, you need to purchase and install MLS Add-on. Then you should navigate to the MLS Add-on menu in your WordPress admin. Click on the "+" sign and enter the server information for your RETS feed. Next you will need to map fields and set queries to fetch properties to your site. Once complete, you may begin the first import by selecting "Import" then "Start".
It is highly recommended that you take advantage of Realtyna's integration service for this step. This service is complimentary with any purchase. Our engineers have experience working with more than 100 MLS across the U.S. and Canada and they can integrate your listings quickly and effecienlty.
Or for more information on how to get a RETS feed, please see the following blog article: How Can I Get RETS Feed?
Step 7 – Configure Your Site
Once your products are installed and your MLS listings are integrated, you are ready to begin personalizing your site and using it. We will upload your logo complimentarily, but there is so much more you can do to make your site yours.
You could create a blog: Boosting Your Real Estate Business With a Blog
If you are using a Page Builder you could drag and drop modules to edit your front-end: 3 Tips to Build a User Friendly Real Estate Site With IDX Integration
Or you could use one of our many back-end menus to edit your site in the way you need.
And our support staff will be there to guide you along the way. One year of technical support is included with every purchase.