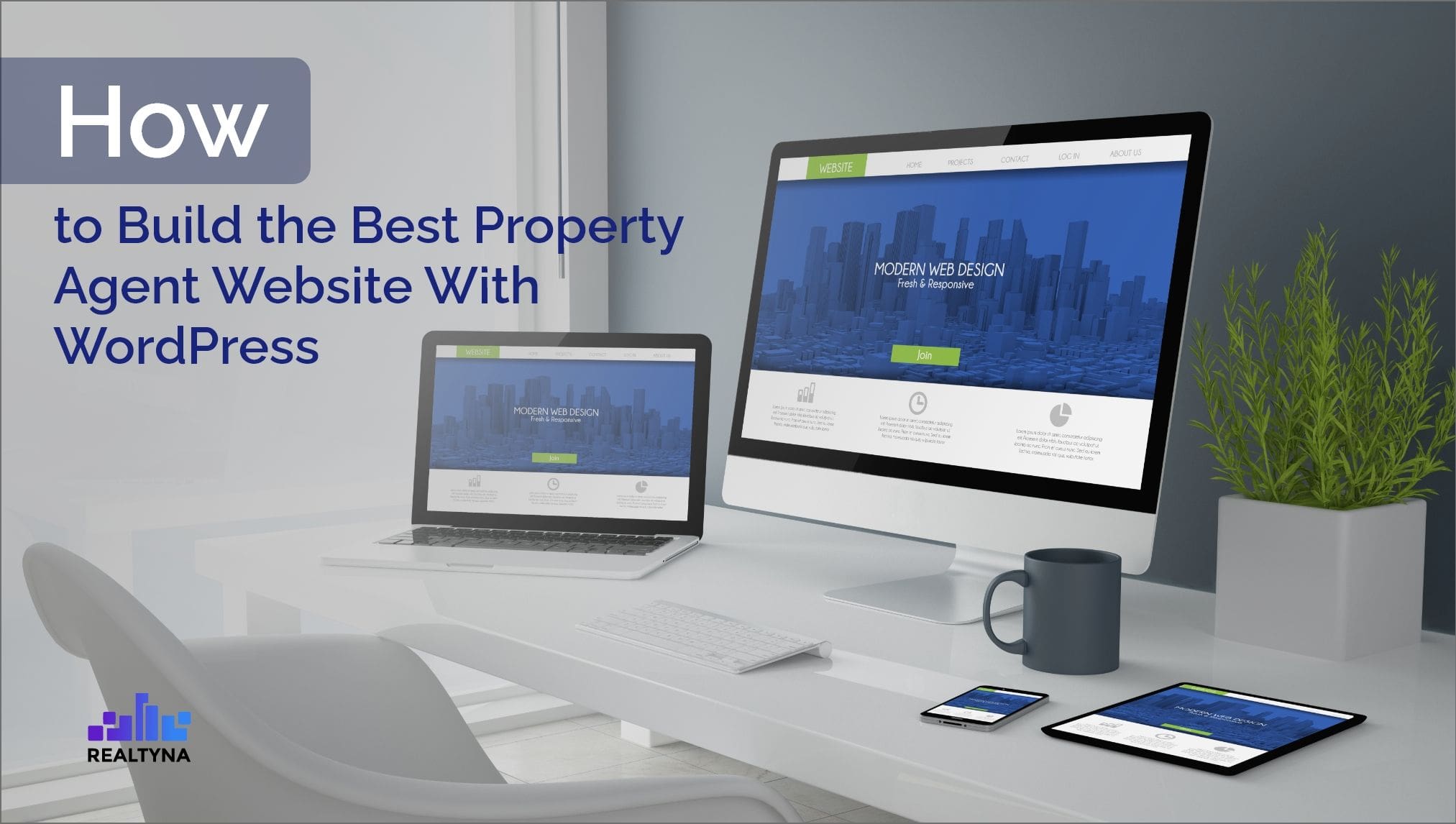 How to Build the Best Property Agent Website With WordPress
26 Oct 2021

Posted at 11:00h
0 Comments
Building a complete real estate WordPress website can be a daunting task. However, a skilled realtor or company can attract clients to their website with more than just a few simple pages that display photographs of houses. To make your website stand out, you must think out of the box.
Thanks to its plugin system, WordPress, makes it possible to integrate complicated functionality easily. Furthermore, there are a plethora of themes available that serve as fantastic foundations for real estate websites. An outstanding real estate WordPress website has many features and functions.
To get started, all you have to do is choose the best blend of tools. This article will discuss the best features for a real estate WordPress website and show you three easy steps to build one.
What Should a Real Estate WordPress Website Include?
Having a real estate website can assist you in displaying your listings, attracting more potential clients and leads, and ultimately increasing your sales. Admittedly, you are most likely to conclude deals offline. But a well-designed real estate website is an excellent tool for capturing people's interest and initiating the buying or selling process. Each website requires a set of features to function correctly. Below are some of the features you should consider when building the best property agent website with WordPress.
Custom filters: Make sure you can add custom fields to tailor your filtering solution to target your specific market.
Map listings: Visitors can use these to find properties in their preferred location much faster.
Home filters: Filtering by bedrooms, baths, square footage, and more should be possible for site visitors.
Contact information: You should provide phone numbers, email addresses, and other ways potential buyers can contact you on your website so that visitors don't have to comb through your website to look for them.
Relevant information about your listings: It is vital to provide relevant information regarding each property listed on your website. You'll need to include accurate information and specifics regarding the property, as well as some images of the property.
The possibility to make appointments: A web-based appointment system can help you save time and streamline company operations. This is more so if you are currently dealing with excessive phone calls or emails.
How to Build the Best Property Agent Website With WordPress
Real estate professionals can accomplish a great deal on their websites by combining suitable WordPress plugins and themes. Nevertheless, before we get into the specifics, you'll need to complete two tasks: registering a domain name and selecting a web hosting provider if you're starting from scratch. WPL Pro offers a decent blend of performance for a website builder that is particularly important for new and existing real estate businesses.
Before getting into details, make sure to install WordPress. Without further ado, let's discuss the three easy steps to build your property agent website.
Step #1: Choose Your Website Theme
With many WordPress themes to choose from, you can build an attractive and functional website for your real estate business. One of the best places to begin is with a theme specifically designed for building a real estate WordPress site, such as the Sesame theme.
Sesame is a highly responsive theme designed to work with a wide range of real estate website layouts, including those with a unique focus. Compared to other themes, Sesame gives users complete control over the features they want while making it quick and straightforward to customize extra functionality.
This theme helps with listings and has a robust search tool for your users. While the demo version is free, you can buy the premium version to enhance your real estate WordPress website with advanced features.
Step #2: List Your Property
Any real estate WordPress website would be incomplete without property listings as its foundation. Your property listing must be visually appealing, descriptive, and have many photos to be successful. The more appealing you make these areas, the more enticing the property appears and the more leads you can generate.
Step #3: Set Up an Online Appointment System
To entice someone looking through your listings to come in and see them for themselves, you must make it as simple as possible for them to schedule an appointment. While using a contact form or providing your phone number is an excellent way to break the ice, neither of these approaches is as effective as setting up an appointment online for both you and your prospects. Among its many time management features, the Calendar Add-on offered by Realtyna, real estate agents, and brokers can indicate when they are available to make it easy for clients and prospects to schedule appointments directly on their websites.
Bottom Line
Often, real estate websites have many interconnected components. That is why it is essential to follow the steps to determine the most effective method of displaying your listings and maintaining accurate information. While WordPress already allows for most of this, you may need to customize your site and add a few extra features for a better user experience.
Related Searches
Top 6+ Highly Customizable WordPress Themes and What Is the Difference Between a WordPress Theme and a WordPress Template?