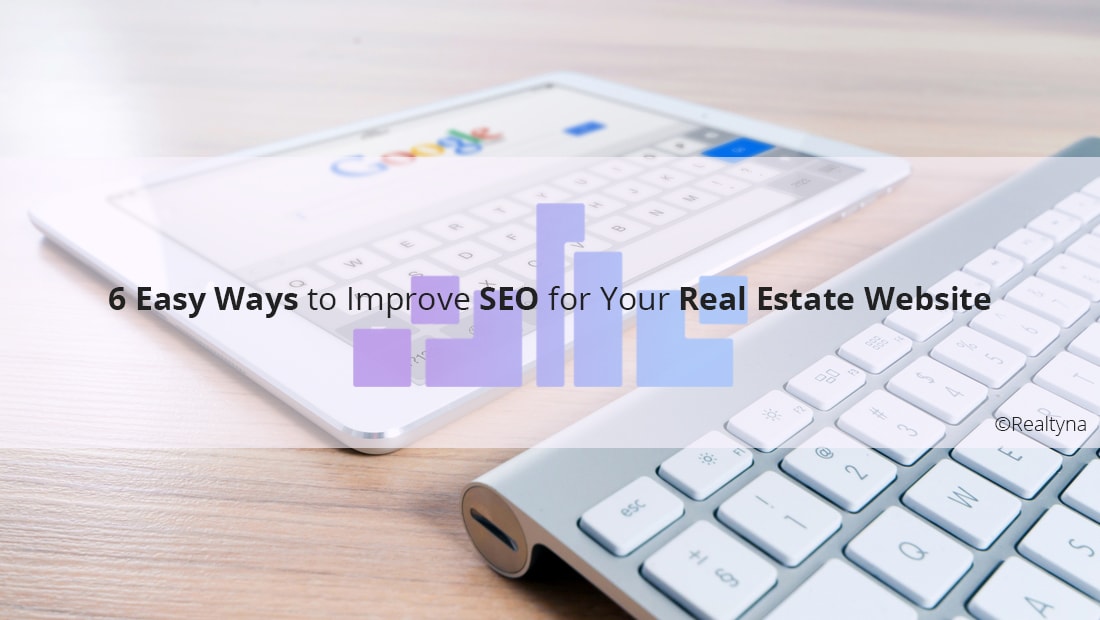 6 Easy Ways to Improve SEO for Your Real Estate Website
23 Sep 2018

Posted at 11:11h
0 Comments
The competitive nature of search engines is becoming more and more severe nowadays. Online competition has come a long way and still has a long way to go. No matter how searching patterns may change in the future, companies will compete for search engine rankings anyway. No wonder it is crucial to have at least some understanding of how Search Engine Optimization works and how you can actually improve your visibility online. If this sounds fair enough to you, make sure to read this article thoroughly, because we're going to cover what you need to know about real estate SEO for your website.
WHAT IS SEO AND WHY IS IT SO IMPORTANT?
SEO stands for Search Engine Optimization and the most important thing you need to know about it is that its main purpose is to make your website more appealing to users and search engine robots as well. Here is how it works. Prior to giving the rankings, the search engine robots try to extract as much information about your website's content as possible, however, they are not as sophisticated as humans. That's why it is very important to help those search engines figure out that your website, indeed, is of value. This is made possible through SEO.
CONTENT IS KING
Content is king. This, indeed, is the rule of thumb when it comes to SEO. Remember, robots prefer quality over quantity and come to think of it, this is exactly how it's supposed to be. There were times when people could fill their websites with irrelevant keywords to improve their rankings, however, such an SEO approach today can literally make your website hit rock bottom. Some even argue that a website's content plays a more significant part in attracting the visitors, than the actual product that is sold through that website. Whether it is true or not is up to you to decide, however, never underestimate the importance of great content. Remember, that the content should be informative, interesting and rich in terms of relevant keywords.

On top of that, make sure to avoid using default text, a.k.a duplicate content, on multiple pages. Neither search engine robots, nor visitors are going to appreciate it.
BUILD INTERNAL LINKING SYSTEM
When placing new content on your website, make sure to link it to any previous relevant content of yours that's already out there. This will keep your users engaged, thus, the bounce rate for your website will be lower. Why should the search engines care about the bounce rate? Because it lets them know how the users react to the site. Simple as it is.
AVOID BUILDING BACKLINKS TO YOUR HOMEPAGE ONLY
When it comes to SEO, it's all about making everything look as natural as possible. Having most of the backlinks to the homepage is normal, makes perfect sense. However, if all the backlinks link to the main page, Google may find it rather suspicious. So get rid of favoritism and make sure you build backlinks to your other pages as well.
LUKE'S TIP:
UPDATE YOUR WEBSITE FREQUENTLY
Dynamic content is SEO friendly, websites with static content usually are never favored by search engines. That's actually why blogs are performing so well.

INTEGRATE SOCIAL MEDIA INTO YOUR WEBSITE
Search engines love social media. Besides, social media is a great tool when it comes to engaging with your audience, because it represents the perfect platform to start sharing your content and to show off your company's personality. So make sure your website displays those nice and small social media icons.
FOCUS MORE ON BECOMING USER-FRIENDLY
Prioritize humans over search engine robots. After all, the end users of your business are real human beings, so put them first. This approach is especially relevant now that the search engine robots are becoming more sophisticated than ever, meaning, they are starting to think more human-like. One of the great examples of this is that among the SEO experts, it is believed that Google is likely trying to read text in images in order to extract as much information as possible. Who are we kidding? It's not only about Google, just anyone can do that with the help of Optical Character Recognition. Talk about things getting more and more complex!
The beauty of SEO is that it is never constant, techniques that were once effective may become outdated really fast, so it is highly recommended that you keep up with the changes as they happen. Most importantly, remember that SEO does not give results overnight. Be patient. After all, good things take time. Have some top-notch SEO tips you'd like to share? Feel free to let us know in the comments below.