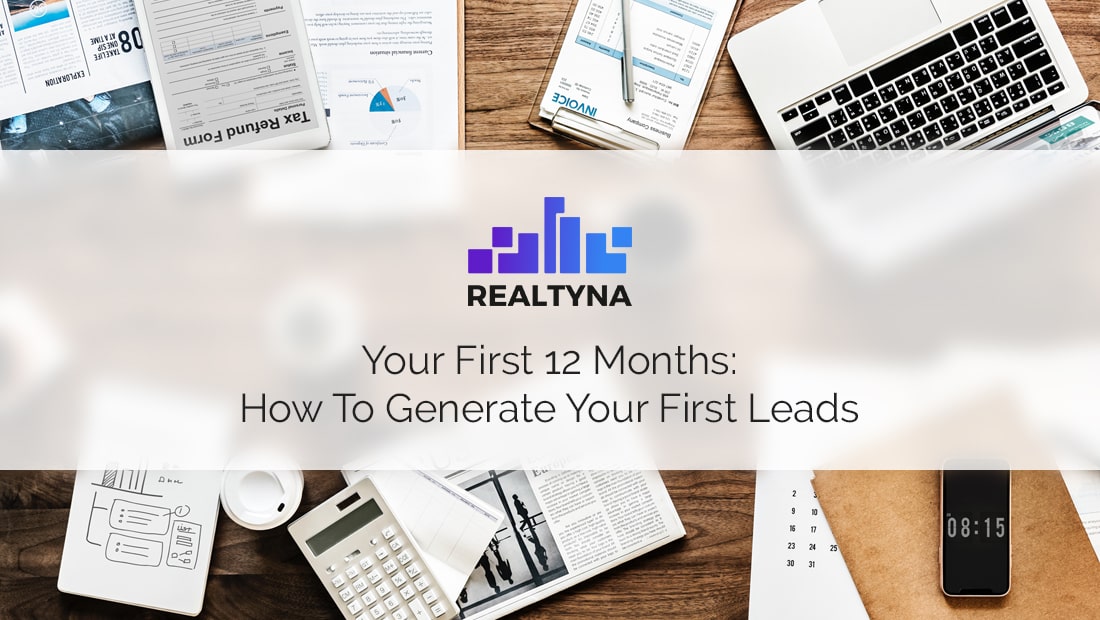 Your First 12 Months: How To Generate Your First Leads
12 May 2018

Posted at 09:52h
0 Comments
Your first months as a real estate agent can be incredibly daunting. You have invested much time, money and effort into a license without any guarantee of success. After you are certified, you are spit out into the big world to handle by yourself. The growth of your business and leads is up to you which might be overwhelming and seemingly impossible in the beginning. I am here to tell you that it is not!
There is sufficient content out there for generating leads, but much of the advice depends on a certain amount of experience or a lead base that is non-existent in your first months. Below is a list of helpful ideas good for fresh realtors, brand new to the game.
*This article is based on the assumption that you already have social media accounts/basic website or blog for your real estate business.*
1- Start With People You Know
Before you begin with any other efforts, reach out to the people already in your circle. Tell your friends, family and others in your network about your new journey in the real estate world. Not only will you get to do some humble bragging, but you can also invite them to share your social media accounts and ask if they already know of any leads. You want to be strategic about how you approach this. You do not want to immediately sell to these people, instead, give them a life update and welcome them to help you.
2- Network
Essential for any profession, networking can be your saving grace. Hop on LinkedIn and get connecting. Make sure to include a compelling header and biography that will set you apart. Start making connections with other realtors, brokers, organizations as well as people in similar industries such as bankers, attorneys and life insurance agents. This networking will be very important for referrals in the future as well as any clients who browse LinkedIn for qualified realtors. Treat this platform as a more professional version of all your other social medias.
3- Get A Coach
Not everyone can magically make it on their own with no training. A very smart idea is to hire a business or real estate coach to teach you all the tricks of selling yourself as well as encourage you to be better! If you are on a tight budget, no problem. Connect with someone you look up to in the industry and kindly ask them to be a mentor. Take this time to shadow an experienced professional and have them give you feedback on your process. It is quite an indirect way to get leads, but certainly a strategy that will benefit you in many ways.
4- Wear A Name Tag
It should already be standard practice for you to wear a name tag/name plate at professional networking events, and if it is not, make it one! Additionally, wear a name tag out and about. Work errands, meeting clients, and community events are just a few examples. People are naturally curious and will want to know why you are in someway qualified to have your name on your chest. This can lead to conversations. Wearing your name tag in public is a super simple way to get your name and business recognized. It may not bring in an immediate boom, but it does absolutely no harm and takes approximately no effort.
5- Use A Business Card
As with name tags, having and carrying business cards can be of great use, especially when starting out. Every person you meet is a chance to market yourself, which is easily done with a business card. Leave one at the coffee shop, doctor's office and mechanic. This is a simple, easy and professional way to get your name recognized in your first few months.
6- Open House
If you happen to live in the community/neighborhood that you are focusing in, consider hosting an Open House, or "launch party," of sorts. Invite all the neighbors, connections, friends and family your heart desires. This is a night that is literally all about you. Welcome all your guests to follow your social medias, invite people to sign up for a newsletter, and ask permission to contact any leads you meet. This is a huge opportunity to form relationships and prove yourself to be the sociable, personable realtor that everyone wants.
7- Knock On Doors
98% of the advice on the internet gives you ways to avoid knocking on doors, but this can work in your favor. If this method has phased out, you can take the golden opportunity to bring it back. This task should be handled delicately, so my suggestion is to wait until your coach or mentor says you are ready for it. The biggest thing to remember when knocking on doors is to sell yourself by not selling. The focus should be on introducing yourself, what you are doing and how you can serve your neighborhood. If you have managed to pique any interest, ask permission to follow up or send them newsletters.
BONUS TIP
After connecting with professionals, having an open house, or knocking on doors, it is a great idea to send handwritten thank you notes. Authentic personalization goes a long way. A simple, "thank you," note for referrals and potential clients can set you apart from your competitors. It shows you care and are willing to go the extra mile to meet your clients needs.
Be patient. Generating your first leads will not happen overnight. It is better to view this step as an investment in your future. Take your time and put in 100% effort. Your first solid lead base will be the perfect transition to new strategies and business growth.
Happy blogging!