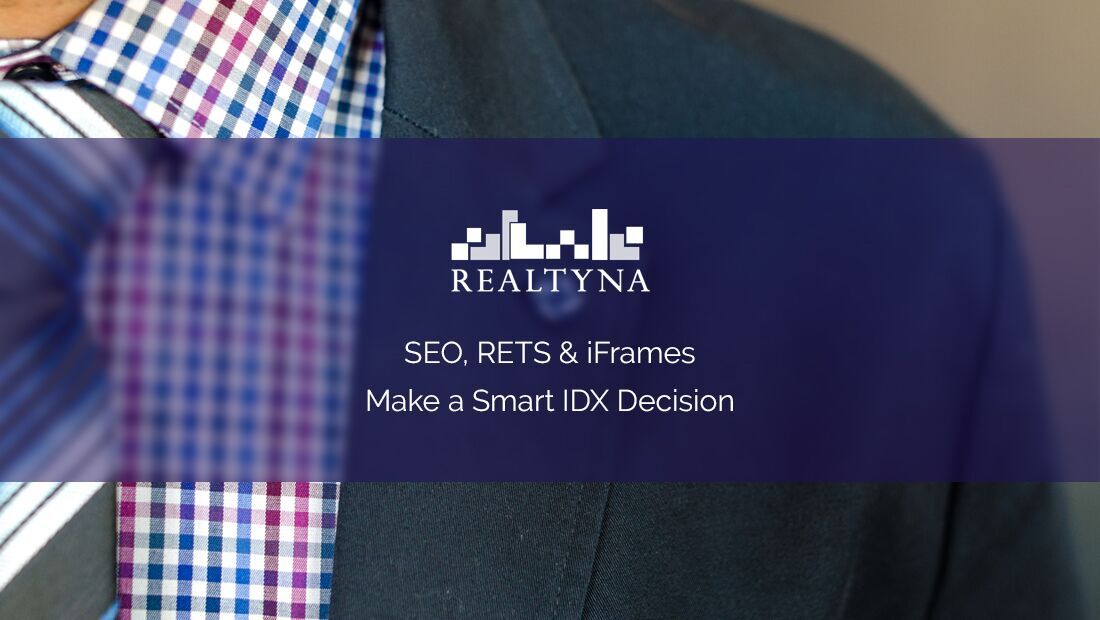 SEO, RETS and iFrames: Everything You Need to Know to Make a Smart IDX Decision
05 Mar 2018

Posted at 18:11h
2 Comments
Please note that the Real Estate Transaction Standard (RETS) has been deprecated and is no longer recommended for use in MLS/IDX integration. Consumers are advised to use the Real Estate Standards Organization (RESO) Web API, which provides a more efficient and secure way of accessing MLS/IDX data. We strongly encourage all users to transition to RESO Web API for a better and more reliable experience. Learn more
Adding IDX to your real estate website can have a lasting impact on your business.
But getting there is sometimes a complicated process.
There's a lot of terminology that gets thrown around.
So we put together this blog post to help you keep everything straight.
We'll cover SEO, RETS and iFrames, so you have everything you need to make a good IDX buying decision.
SEO
You probably already know that SEO is short for search engine optimization.
What you may not know is that SEO is playing an increasing role in real estate.
As the industry shifts online, more and more prospective buyers are turning to search engines to look for homes.
This means you need to rank highly on Google, Yahoo, and others to attract new leads.
Your IDX buying decision can play a huge part in this.
They may not say it, but IDX providers offer vastly different levels of real estate SEO.
It's up to you to dig a little deeper.
You want to ask your IDX provider if their solution is "indexable."
Indexable means search engines can read your site and display it in the results page.
Indexable IDX is the gold standard for SEO in the real estate industry.
We have more on indexable IDX here: https://realtyna.com/blog/idx-seo-everything-you-need-to-know/
RETS
So what kinds of IDX systems are indexable?
The short answer is IDX systems that use RETS.
RETS is short for Real Estate Transaction Standard.
We won't get too much into the history of RETS here. But if you want to read more, check out this blog post: https://realtyna.com/blog/what-is-a-rets-feed/
For now, you only need to know that RETS produces the strongest SEO.
RETS also has the advantage of allowing connections to multiple MLS.
This is known as multi-RETS support.
If you are a member of multiple MLS, multi-RETS will allow you to display listing for both in a single IDX portal.
We have more on multi-RETS here: https://realtyna.com/blog/connect-website-multiple-mls-multi-rets-wordpress-real-estate-plugin/
iFRAMES
That leaves iFrames. iFrames are a web site design element used in a number of contexts.
In short, they allow you to take content somewhere on the web and "frame" it so it appears on your site.
This allows users to view and use this content without leaving your site.
It's pretty handy for IDX. IDX listings can approach 100 GBs or more of data. Instead of hosting all of this you can frame it with nearly the same effect.
But iFrames have a huge downside. They are not indexable.
This means search engines are not going to read them and your site will take a huge SEO hit.
We have more details here: https://realtyna.com/blog/what-is-idx-framing/
So be wary. Any IDX system offering very low monthly rates is likely framed.
You'll want to clarify this before making any purchase.
We hope this introduction to SEO, RETS and iFrames empowers you to make a smart IDX buying decision.
Of course there are other things to consider.
You should think about lead capture and themes too.
For more details check out these articles:
https://realtyna.com/blog/idx-lead-capture-strategies-convert-more-sales/
https://realtyna.com/blog/9-seo-friendly-wordpress-real-estate-theme-can-use-today/