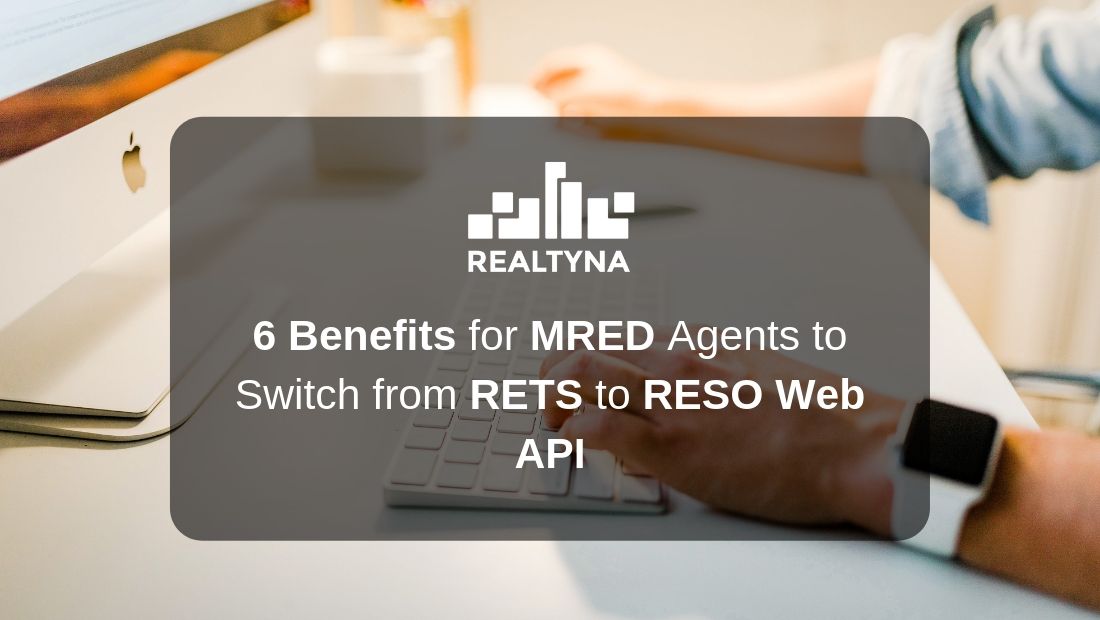 6 Benefits for MRED Agents to Switch from RETS to RESO Web API
15 Aug 2019

Posted at 10:00h
0 Comments
Please note that the Real Estate Transaction Standard (RETS) has been deprecated and is no longer recommended for use in MLS/IDX integration. Consumers are advised to use the Real Estate Standards Organization (RESO) Web API, which provides a more efficient and secure way of accessing MLS/IDX data. We strongly encourage all users to transition to RESO Web API for a better and more reliable experience. Learn more
*Benefits of switching from RETS to RESO Web API for MRED agents include streamlined data transfers, simpler maintenance, faster development easier integration and more.
Overview
For years, RETS was the name of the game in real estate. Agents and brokers in the Chicago area that wanted to get ahead turned to RETS to generate organic traffic and build leads.
But there is only so long you can work with 20-year-old technology.
Since 2016, RESO has required realtor owned MLS, such as MRED, to adopt a new technology standard. That standard, RESO Web API, represents the next chapter in real estate data technologies and promises to push the industry deeper into mobile and social applications.
But there are benefits for MRED agents to switch their IDX from RETS to RESO Web API today.
1. Streamlined Data Transfers
RESO Web API is different from RETS because it uses an application programming interface, which allows users on your site to call the MLS directly in a property search.
This streamlines the data transfer process and greatly simplifies that back-end workings of your IDX site.
2. Can Generate Smaller Hosting Burden
Agents with an MRED RETS feed know that this IDX system requires a lot of disk space. This is because each listing on the MLS is ultimately replicated on your website servers. This allows you to generate organic traffic but can require hefty hosting payments.
With the option for direct calls to the MLS, RESO Web API alleviates the hosting burden while maintaining strong SEO. Of course, agents wishing to replicate the data locally à la RETS can still do that with RESO Web API. Win-Win.
3. Simpler Maintenance
A simpler back-end system means simpler maintenance on your site. Any data changes from the MLS will not require whole-scale redevelopment. This allows MRED agents to spend less time worrying about keeping their IDX sites up and more time selling homes.
4. Fewer Compliance and Security Concerns
By allowing direct calls to the MLS, RESO WEB API also lowers compliance and security concerns. By replicating their data on local IDX sites, MLS effectively created thousands of mini MLS. Keeping this data secure and compliant with MLS standards fell to the agents.
5. Easier Integration
RESO Web API packages the processes and rules to retrieve MLS data in a single component. This makes writing third-party applications straightforward and standardized, which can help MRED agents integrate their IDX sites with other software.
6. Faster Deployment
If you are worried about downtime switching from RETS to RESO Web API, don't be! APIs have been used in a range of professional applications. As a result, there is a large development community with the know-how to work with them and implement them quickly.
So now you know some advantages for MRED agents and brokers to switch from RETS to RESO Web API. Questions or feedback? Leave them in the comments. Or for more real estate tips, check out 51 Content Ideas for Your Real Estate Newsletter.
For more on RESO Web API, Check our explainer video: