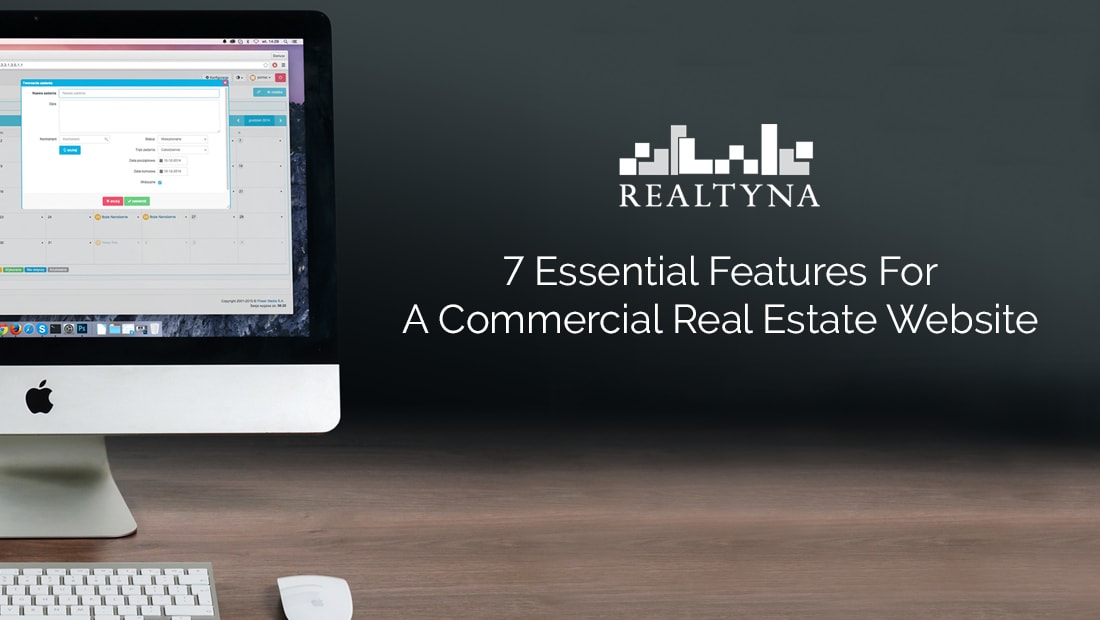 7 Essential Features for a Commercial Real Estate Website
06 May 2018

Posted at 10:00h
0 Comments
When people hear the word "real estate," they often connect it to buying and selling homes, but there is another side to this world that should never be overlooked: commercial real estate. The resources out there for residential real estate are vast, but commercial is often put on the back burner. With the major differences in products, markets and business practices, it is important to guide commercial real estate agents and brokers into a direction specialized for them.
A universal truth for all real estate businesses is that it would be better with a website. Especially a website with Organic MLS/IDX integration. Below are the top 7 essential features for a commercial real estate website and how to get them.
Flex System

Agent Profiles
INTEGRATED LISTINGS
As for any real estate business, it is imperative to have your listings on your website. This can be done 1 of 3 ways. You can add your own properties manually, which is done one-by-one and might require some technical knowledge depending on your backend interface. Your other options are MLS integration or XML/CSV Data Importing.
MLS Integration: If your local MLS has commercial listings you can connect your site to its commercial listing database. This will allow you to fetch new and updated listings at a regular interval via RETS. Read this for more detailed information about MLS integration.
XML/CSV Data Importing: If you have another database of commercial listings in XML or CSV formats, you can import these properties with a Data Importing product.
NEIGHBORHOOD INFORMATION
Neighborhood information is important for residential clients, but arguably even more crucial for commercial real estate. Clients are in the business to make money, and their neighborhood placement will likely be highly strategic and decisive. Having the ability to share the highlights of different neighborhoods in your community will not only save your clients time, but also paint you as the trusted neighborhood expert they need.
ADVANCED SEARCH OPTIONS
Creating a user friendly interface will bring traffic to your website and help retain leads. Advanced search options are an easy way to enhance your page and give your leads the fields they need to search for their perfect property. Advanced search options should include saved searches, zooming/panning, customizable search fields and other unique ways for clients to interact with your website.
FLEX SYSTEM
Your website is only as good as the options you have to customize it and make it your own. Templates are great to be just that- templates. To have a website devoted to commercial real estate will require you to have the ability to tailor your listings that way. Make sure to find a system that allows you to have freedom and full flexibility of the content on your page.
LUKE'S TIP

CRM
CRM stands for Customer Relationship Management and is simply a system or strategy for managing and optimizing consumer interactions with your business. This is an immensely beneficial tool to businesses in all markets. It is the current standard for converting leads and absolutely necessary for sales and marketing attempts. A good system will allow you to monitor lead activity, manage agents and set events an reminders. It is no question that every real estate website should have a CRM.
COMPLEX INFORMATION
Commercial real estate does not always happen in stand-alone buildings. Detailed building complex information will give your clients additional access to some more non-traditional commercial options. Having pages dedicated to building complexes can add an extra level of detail and organization to your website and for your leads.
AGENT PROFILES
Having your agents contact information on the ready is extremely beneficial for retaining leads. Make things easier for your leads by having a feature that connects listings directly with the respected agents. Clients will find it easier to get and stay connected with you this way.
Now you are probably wondering how to get such features for your website. You can always hire an independent developer with a hefty price tag. Begin your endless Google search for decent companies, or you can consider working with Realtyna. Realtyna offers all of these features and more, specializing in developing polished and professional real estate websites. With Realtyna, you will enjoy the benefits of one-time payments, lifetime access and support, and a dedicated team ready to meet your needs.