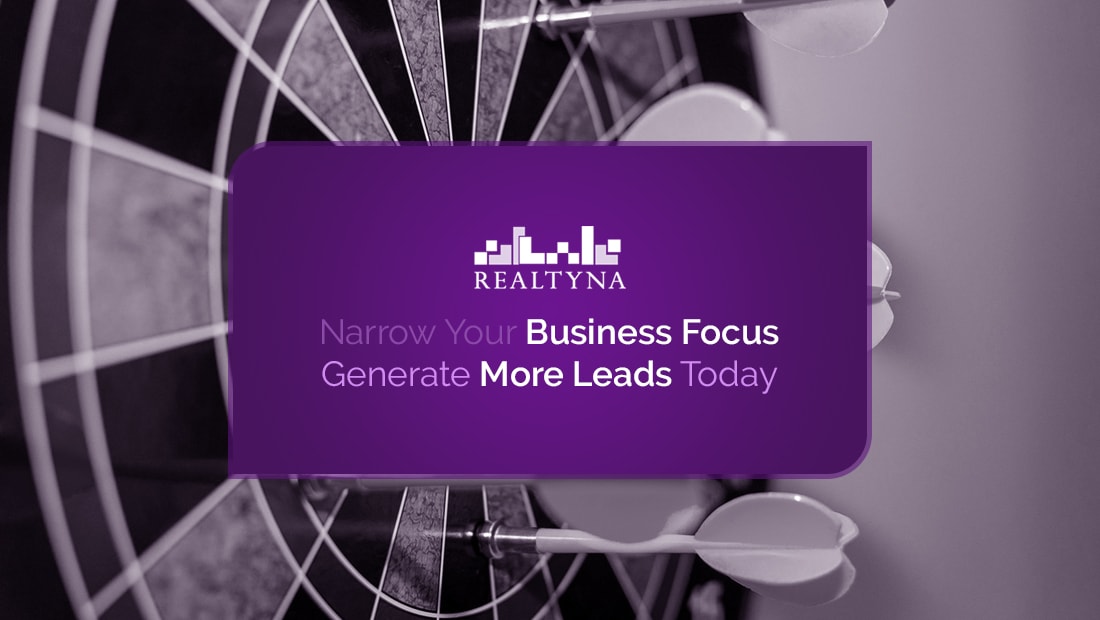 Narrow Your Business Focus With Real Estate Niche Marketing and Generate More Leads Today
It's common for new agents to take a generalist approach to their real estate business.
They market to everyone and take any leads that come their way.
In short, they throw a bunch of marketing against the wall and see what sticks.
Not surprisingly, this is inefficient.
There are two problems with the general approach.
Number one, you'll find it is very difficult to differentiate yourself from other agents in your area. Why should a prospective buyer choose you over someone else who has the same qualifications?
Number two, you open yourself to competition from portals. Why would I seek out a local agent if she has no specialty?
This is why it's important for agents to narrow their business focus with niche marketing.
Here are 7 tips to generate more leads with real estate niche marketing.
CHOOSE A NICHE
The first step to narrowing your business focus is choosing a niche. This can be almost anything.
– Location
If your MLS covers a large rural area, consider limiting your business to a few essential towns. If you are in a larger city, think about focusing on a few important neighborhoods.
Or if there is a large housing development or planned community in your area, you could specialize there.
– Listings
Some Realtyna clients focus on land and farms. Others specialize in rentals and apartments. Or you could consider single family home sales as your core business.
– Properties
You have a lot of creative options here: houseboats, cabins, lake-front homes, lofts, and more. Each of these offer a niche market and the potential for specialization.
– Clients
There are a lot of different clients out there. It won't be hard to find one segment and make it your specialty. First, you could focus you marketing by age like baby boomers or millennials.
Second, you could specialize in client type like foreign buyers or first-time home buyers.
Third, you could limit your market to clients situationally. Divorcees or newly returned military veterans may be good options here.
I encourage you to follow your interests. And if you have experience with any of these market segments already, continue with it!
To be successful, you are going to have to let go of other leads that don't fit your niche. So it's important to find a specialty where you are comfortable and confident.
WEBSITE
Now that you have your niche, it's time to start marketing. The first thing you should is update your website and professional profile.
– About Me
If you have an about me page, put a sentence or two about your niche. If you have any relevant experience add it too. This will give credibility to your specialty.
– IDX Listings
If you are focusing on a certain area or property type, you may want to limit your IDX accordingly. You can do this by changing the configurations of your feed or setting up a filter.
– Community Pages
Neighborhood or community pages are another good way to build a location niche. Real estate agents are community experts. No one knows the comings and goings of your neighborhood like you. Put this knowledge to work by creating community pages with facts, amenities, and history.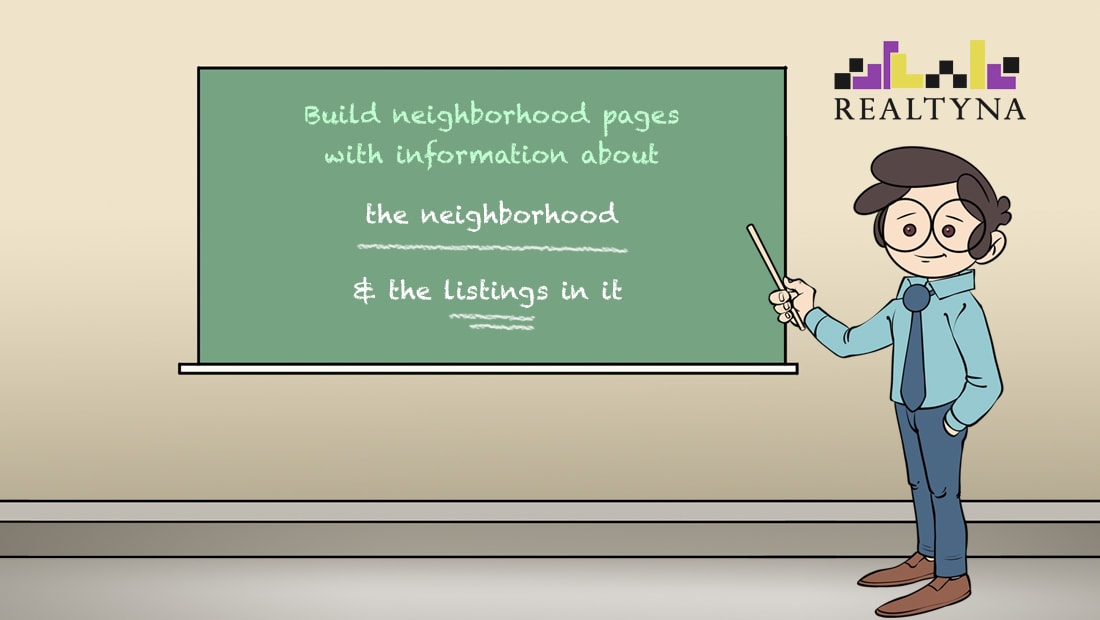 With Realtyna, you can sort into dedicated neighborhood pages. This way your leads can learn about a community and see the available properties in the same view.
For more on updating your website check out our blog post here: https://realtyna.com/blog/6-tips-to-improve-your-real-estate-website/
CONTENT
We all know that content is king for web marketing. It's no different for niche marketing.
Once you've updated your website, you should begin building content. Consider some of the following:
– Video
Video is among the most popular content on the web and having video on your site can help keep your leads engaged. Consider recording a video with testimonials from others about your successes in your niche. Or your video could be biographical. Introduce yourself and why you are passionate about your niche.
– Educate Your Leads
Part of building a specialty is demonstrating an expertise. There is no better way to do this than to provide content on your website. Consider a buying guide for navigating the particularities of your niche. A glossary of terms for the language of your niche also would be useful.
– Best of Lists
Home shopping can be fun, even for those in the market. Take advantage of the casual home browser by creating best of lists in your niche. If you can hook them into your site, they are more likely to remember you when it's time to buy a home.
For more on produce content, check out our list of blog ideas: https://realtyna.com/blog/what-should-i-write-about-on-my-real-estate-blog/
SEO
To maximize your updated site and new content, you will need to focus on SEO. You should make sure your keywords match possible search terms within your niche.
Keep your URL structure simple and readable. And make sure you are adding metadata.
Lastly, don't forget to create a strategy for back links. You will want to register on Yelp, Whitepages and other directories as an expert in your niche and point readers back to your site.
We have more on real estate SEO here: https://realtyna.com/blog/how-get-my-real-estate-site-page-one/
SOCIAL MEDIA
Don't forget to update your social media profiles. You should have a consistent message across all of your platforms: you are the go-to expert in your niche.
If you create new content on your niche, post it to social media too. This will keep your accounts active and build your credibility.
Check out tips for using LinkedIn as a real estate agent: https://realtyna.com/blog/7-years-why-every-real-estate-agent-use-linkedin/
PURCHASE WEB ADS
As a default you could purchase web ads. These ads will ensure you appear in the top result on search engine when a user enters a relevant term.
This can help generate leads, but it is temporary and it is costly. So purchase your ads strategically.
NETWORKING
Lastly, you will want to network within your niche. If you are ambitious, you should consider creating a professional network group for your niche.
Or you can use LinkedIn to find others within your niche in your area. Connect with them online, then find a way to get together in person.
We have a full post on real estate networking tips here: https://realtyna.com/blog/8-essential-tips-supercharge-real-estate-networking-boost-referrals/
Don't let the winds of the real estate industry blow you around. Take charge of your business and build an expertise through niche marketing.
Realtyna can help. Contact us today to find out how we can update your site, or configure your IDX feed to match your vision.