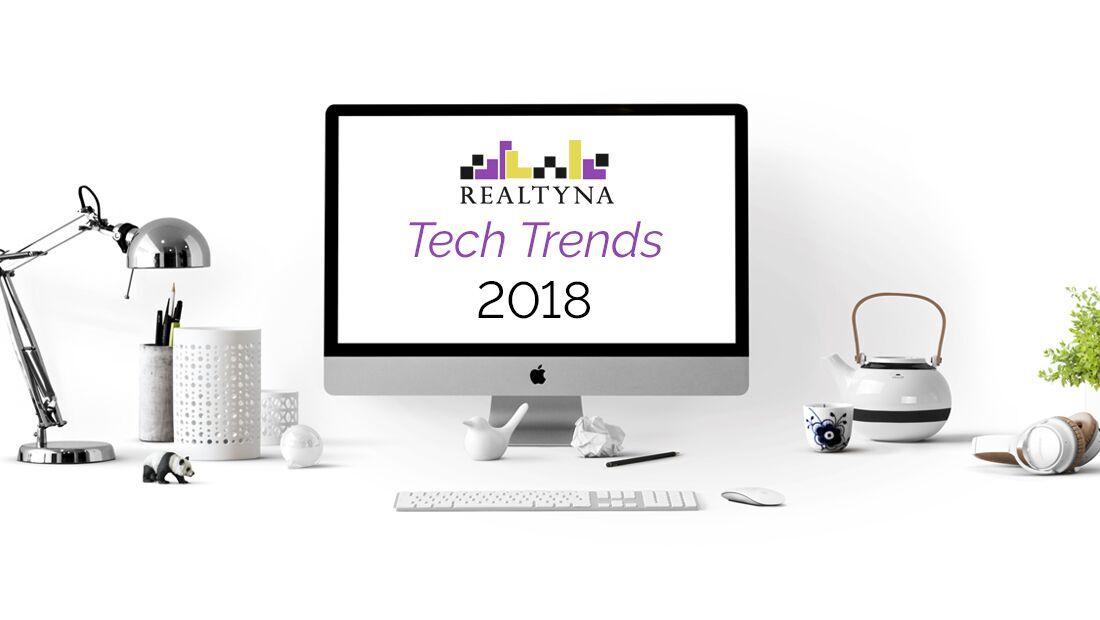 7 Real Estate Tech Trends to Follow in 2018 – Realtyna Blog
16 Jan 2018

Posted at 14:40h
8 Comments
The real estate industry is evolving faster than ever. It's so fast that real estate agents say keeping up with technology is among their biggest challenges.
To help you stay ahead of the game, we've put together a list of what we think is coming over the next year.
Here are 7 real estate tech trends to follow in 2018.
THE RISE OF LOCALIZATION
Real estate portals will continue to dominate in 2018. Zillow, Trulia, and others will continue to take the vast majority of page views. To compete we expect to see more agents go hyper local.
In 2018, more real estate agents will focus their marketing on neighborhoods. We will see entire websites dedicated to one community as agents seek out their niche. This is the information only agents can provide. And they can do it by leveraging their on-the-ground knowledge.
CONTINUED GROWTH IN MOBILE
In 2107, NAR reported that 58 percent of buyers found their home on mobile. Mobile usage will continue to rise in 2018 as more and more Millennials and Generation Z buyers enter the market.
We expect agents to respond by investing more in apps and mobile responsive sites. Replicating the IDX search experience on a phone or tablet will be a huge point of emphasis in the coming year.
We have more details on the importance of mobile here: https://realtyna.com/blog/6-reasons-why-you-should-use-mobile-apps-and-sms-for-your-real-estate-website/
ONLINE PROFILES WIN THE DAY
We've seen a movement to web marketing over a number of years. Most agents now advertise on Facebook, Pinterest, Twitter and other social media platforms.
As a result there is a huge emphasis on web visibility and the online profile. Those who have the most information about themselves online are winning. In 2018, online profiles will be larger, more detailed, and across more platforms than ever.
ORGANIC SEARCH DRIVES TRAFFIC
It's a fact of life that the real estate industry is more competitive than ever. In many large markets there are hundreds of brokers, and firms listing the same properties on their site.
Buyers are no longer turning to a single company for information. The vast majority now employ search engines at least once when looking for homes. As a result, we expect a wave toward organic search in 2018 as agents try to boost their search engine page rankings.
CONTENT RULES
As real estate agents compete for clicks and eyeballs, they will need to diversify their content offerings. It's not enough to provide IDX and a homebuyers guide on your website any more: https://realtyna.com/blog/how-get-my-real-estate-site-page-one/
Agents need blogs posts, videos, photo galleries, and more. And it needs to be relevant and regular, at least once a day. In 2018, the agents that publish the most content will get the most leads.
SMART HOME FEATURES MAKE THEIR MARK
Automatic light control and smart thermostats are not new. But costs keep going down.
We expect more buyer demand for smart home controls in 2018. And we expect agents to integrate these technologies into their marketing plans and property displays.
POWERED WITH ANALYTICS
Homebuyers are as informed as ever. But their demands for more information keep going up. To get ahead we expect more agents to integrate analytics into their marketing.
In 2018, we will see more data included in IDX. This will include neighborhood data, schools, and home sales. Graphics and data visualization will be key as agents seek to communicate data quickly and efficiently.
The coming year promises to be another year of rapid evolution for real estate agents and brokers. We'll be here everyday working to keep our clients on the leading edge.